HRCH WHISKEY CREEK'S WALK IN THE PARK MH RN QAA CGC "PARKER"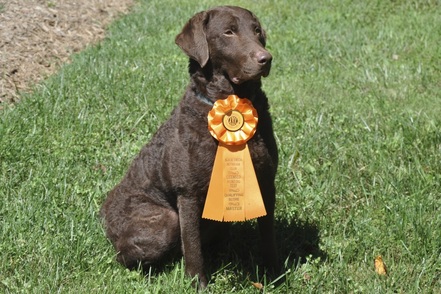 Parker is equally intense in work and play. She achieved her AKC Junior and Senior as well as her UKC Hunting Retriever Title without a miss. She took her AKC Master Hunter Title this Spring. A great gal she has and is just a joy and given the opportunity she would rather be in the field and water than anywhere else!

After a long lay off we ventured this past year into the Finished Hunt Test (Hunting Retriever Club) and Parker went four for four for her HRCH Title.

OWNER TRAINED AND HANDLED

During our quest for the remaining three Master Hunt Test Passes she needed to attain her AKC Master Hunter Title she got a JAM in the Alamo Retriever Club Owner Handler Qual. . Parker got her Master Hunter Title at the Black Creek Retriever Club in East Byrne, NY in August 2014. Parker, much to our surprise, did beautifully in her two day Upland Hunt Tests earning her two ribbons and lots of praise. The judges were praising and we were surprised that she just took to it with only 1/2 day of training. She is steady as she goes passing the three Master Hunter Tests needed without a glitch, and has matured into a very nice and hard working girl. She's is an integral part of the "Gang of Seven".

Parker did a very nice run in the 2016 Field Trial Specialty earning a JAM. That meant she earned the designation of QAA!
---